Big Dipper Grease Trap Recovery & Removal Products
The Thermaco, Inc. Big Dipper® Automatic Grease and Oils Removal System removes free-floating (non-emulsified) grease & oils from kitchen drain water flows. Grease buildup within a building's plumbing drainage system is a major cause of problems due to drain line blockages.  Proper installation of a Big Dipper System can reduce or eliminate grease problems.



Big Dipper® Point Source Grease Recovery Units treat kitchen drain flows of 20-50 GPM. These units are designed to treat single fixtures
such as a three compartment sink or pre-rinse station. Big Dipper Point Source Grease Traps are typically found in fast food & full-service restaurants, delis, rotisserie ovens, schools, grocery stores and similar establishments.



 We are the distributor for Thermaco products in the state of Georgia.
We can help you size the correct grease trap for the application, compliance issues with your local County or City waste water departments. We also sell the parts and can arrange service thru one of our authorized service companies.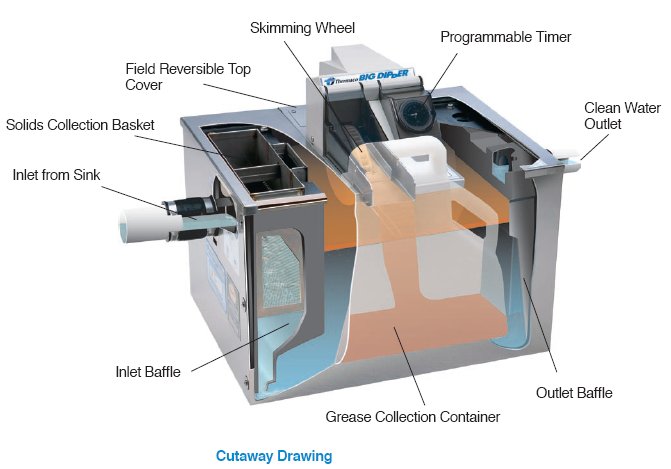 For specifications on the grease traps, click on the image.
TRAPZILLA
Trapzilla, the highly efficient, supercapacity grease trap. Designed to handle flows up to 150 gallons per minute, Trapzilla can hold more than 630 lbs. of fat, oil, and grease, trapping upwards of 90% of its volume. Compare this to the 25% that traditional grease interceptors can handle before losing efficiency.
Contact us for more information on Trapzilla.